What is SSEAYP - See Stupid Eat And Yell Progressively. hahaha.. No!! It stands for Ship for South East Asia Youth Program http://www.iyeo.or.jp/sseayp/33. This program is initiated from Japan & every year youths around South East Asia will gather at their first port call & they will start their sailing adventure for 6 weeks in Nippon Maru. Each destination they arrive, they will do some community work & also have a chance to stay with a local family in trying was is the life living with them.
So how did I manage to get into this program. My uncle Edward is a active committee member in Singapore wing of SSEAYP.
http://www.sseayp.com/
This year Singapore is the 1st port of call & happen so the program starts on a weekday. With such many of the previous fostering family are not able to commit their time this year due to their personal work commits. Hence my uncle approach me for help & without much hesitations Eric & I agree.
On 2nd Nov evening we head down the Chai Chee CC to pick up our 2 lovely gals.
They are Leav Sereydanith aka Piglet (she loves piglet) from Cambodia & Eri Sato aka Eringui (mushroom in Japanese) from Japan.
When we reach home, did some freshen up & went to IMM for supper & shoppings. Gals being gals, they love to walk around the mall. Although they reachd Singapore earlier of the week, there wasn't a chance for them to roam around the country as the first few days were delicated for Tertiary Institute visiting & community services. Hence IMM was their first glance of what Singapore leisure is like.
The next day due to my extremely mad working schedules & project time line, I am not able to join the gals out for their excursion around Singapore. Thank goodness I have wonderful Eric whom help me to become the tour guide for the day. I really felt very disappointed on not showing my hospitality.
In the morning, they went to A-Kun for breakfast & Eri loves the kaya toast ;). Later in the late afternoon Eric bought them to the Merlion park. We guess most of the tourist will like to see that. After getting some splatters of water, they headed down to Orchard for shopping at Plaza Singapura. I heard they were very happy raoming around the mall. Gals are gals, whom does not like to shop.
After the shopping treat, Sentosa they went. Since it was almost late evening when they arrive at Sentosa, only manage to visit the UnderWater World & the Magical Fountain. It was only late in the evening at about 8PM then I can knock off from work to join them for dinner at Harbour Front food court.
The next day since they need to be at Nippon Maru by 11.45Am, not much time was available for more sight seeing. Manage to bring to them to a local hawker centre & had prawn noodles for brunch.
Though such short time on the last day, manage to get these pics taken at my place.
Well it's really a very short stay for them in Singapore & after going on board of the ship, its time for them to sail off to their next destination - Jarkata.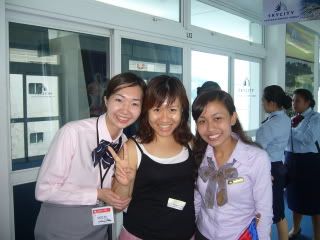 Its really sad to bid farewell to the gals & Eric & I do have a great time spent with them. Well I do wish them well for their on coming trip & life. For us will be looking forward to the next year program.