Before the last weekend Race in Italy,
Ching Wei
& I try to make a prediction of whom will clinch 1st in Podium for Monza.
I think probably
Felipe Massa
may come in 1st as this is the home ground for Ferrari. That is really going to be a Triumph. But too bad, he is out just after the 1st 10 laps due to a
suspension problem
.
However Ching Wei prophetical mind is better then me. He just had this hunch
McLaren
will win for this race.
Well he is indeed correct! Well done boy! hahaha!
Our boy here had been Orang Cacat for the last couple weeks.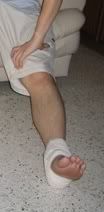 Well wish that he will get WELL SOON! Take care.
ps: Orang Cacat means Handicap