After Qualifying on Saturday, I really thought its going to be different for this this race? Why so different? I really though Vettel may take the lead & win the race being pole other then Button. Unfortunately Vettel lost his grip & spun out of the track. Button overtook Vettel & the race winner had been decided...
What so frustrating is, Vettel was put on a 3 Pit Stop strategy while Webber was on 2! Was it a team order? Was it a punishment for Vettel loosing his position to Button during the 1st 3 laps of the race? Was it?!?!?!?!
During mid race, Vettel was so close to Button - < a fraction of second apart. You can see Vettel was pushing Button hard & almost made Button loosing his foot hold on this position. But the unexpected happen! Vettel being called it pit for a regular pit stop! What kind of strategy is this! I believe if Vettel to continue to push further, Button will loose his cool...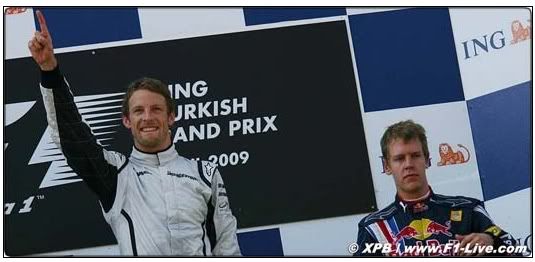 Well its obvious you wouldn't see a happy Vettel on the podium as well....More news from

www.f1-live.com

S

ebastian Vettel admitted feeling somewhat frustrated following the 58-lap Turkish Grand Prix that saw rival Jenson Button extend his already large championship advantage with another win while poor team strategy cost him second place to team-mate Mark Webber.

After running wide into turn nine and then losing time out of turn ten on the first lap, pole-sitter Vettel dropped out of the lead and behind Button. This would prove to be a decisive as Vettel then focussed his attention to keep the Brawn Mercedes in sight and Red Bull Renault team-mate Webber behind.

However, Red Bull opted to keep Vettel on a three stop strategy in the hope that later in the race he could catch and pass the championship leader to record the race win - an unlikely scenario given the pace of the Brawn in practice and qualifying. This was also a surprise to the young German star as well as to the paddock.



"After the first stint it was more or less clear that I was short on fuel and therefore I was surprised that we still went on a three stop strategy as from there onwards it did not make much sense especially as I caught up Jenson in my middle stint and lost time there,"

Vettel explained.

"I basically lost the race to Mark as well, so all in all we probably didn't do the best job there."



The battle for second however still remained. Following his third stop for fuel and tyres, Vettel quickly closed in on Webber before team instruction told him to save the car and not to try and gain second position.



"I was surprised it was that much and then my engineer came on the radio and said Mark was faster,"

he continued. "I think I just have to ask you what you would do in this kind of situation. You start from pole, you realise that your strategy doesn't work as it was supposed to and you're not in the position you want to be, so the last thing you do is just go round slowly and drive the car home. I think both of us turned down the engines but I enjoy driving, so I would rather continue to go quickly than start to slow down and carry the car home."



"At this point I haven't spoken to the team but at this point I don't yet understand why we were still on a three stop. I think a two stop would have just secured second position. We tried; it didn't work, so we'll know next time."



Vettel is clearly frustrated this evening as he now trails Button by a massive 32 points, a gap that is almost impossible to regain. Furthermore, Webber's second position moves him just 1.5 points behind.

Team Principal Christian Horner was keen to diffuse the issue in his post race statement claiming that Vettel's lap one mistake had essentially forced the team to remain with a three stop strategy.



"Unfortunately for Sebastian, after a good start and having led on the first lap, he made a small mistake which allowed Jenson to pass,"

Horner stated.

"Our only chance to then have a go at Jenson was a three-stop strategy, which is what we elected to do. It relied on us overtaking Jenson in the second stint, but unfortunately Sebastian didn't manage that today and the time lost was the difference between second and third."



Earl ALEXANDER
© CAPSIS International