One hot sunny Saturday morning, I dragged myself up very early in the morning like 7am. If its a normal working day, getting up at 7am has no complains as I need to get up to start a days' job. But its Saturday where most of us are suppose to wake up late & laze around.
Anyway, what made me willing to sacrifice my precious sleep... I've book a tour with the
Singapore Sports Council
to pay a last visit to our National Stadium at Kallang. Its a 2 hours guided tour where it bring you walk up & down, in & out of the Stadium; the intent - to pay a last visit before its to be demolish at the end of the year to make way for the new
Sports Hub
.
The tour started by visiting the grand stand. I vaguely remember I only sat on the grand stand once. It was an event held by the Arm Forces. As said its the grand stand, the view sitting there is superb. You will get the best view of any event held below & also the full front of any fireworks display.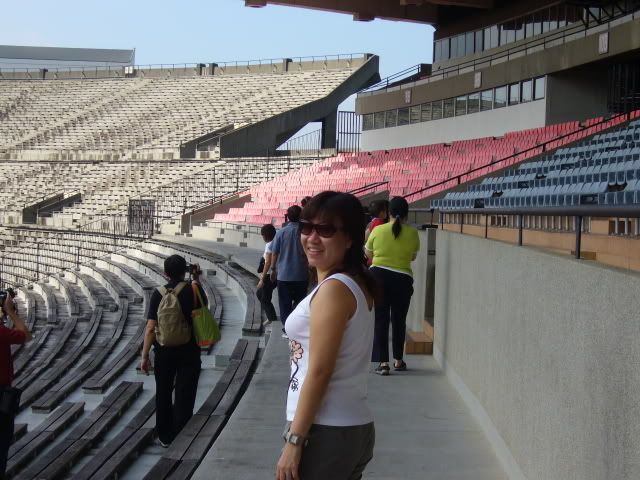 In front of the Grand Stand there are 4 plagues mounted on the wall honoring the Stadium.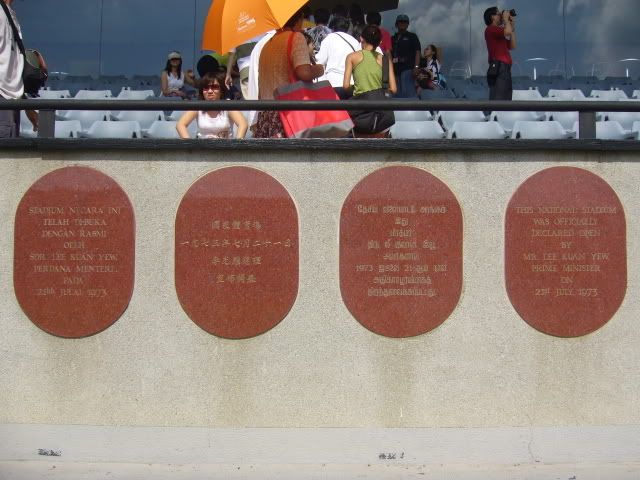 At the grand stand we also had the pleasure to meet
Kunalan
. He is our 1st National Sprinter. He gave us his story on his love for the Stadium which had accompanied him throughout the years.
Since its a tour, we also got to visit those places where only VIP or Ministers & even the President goes. The VIP Room & Eric took a walk down the long steps.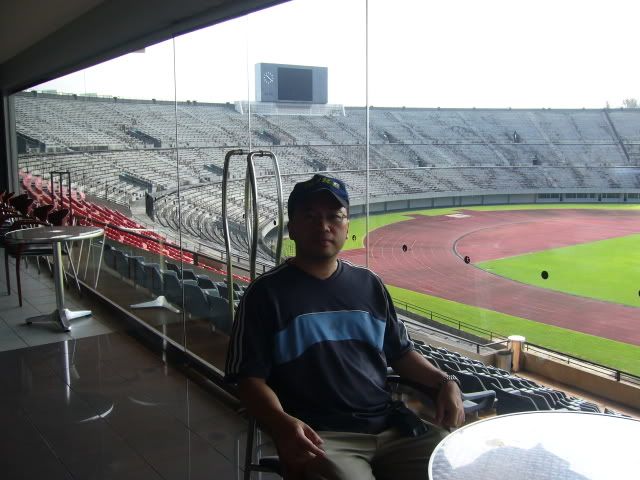 As we began to move away from the grand stand, I must make sure to capture a last shot of that Big Screen.
Next we all headed down to the
Sports Museum
& visit the various medals that our local sportsman had made our country proud.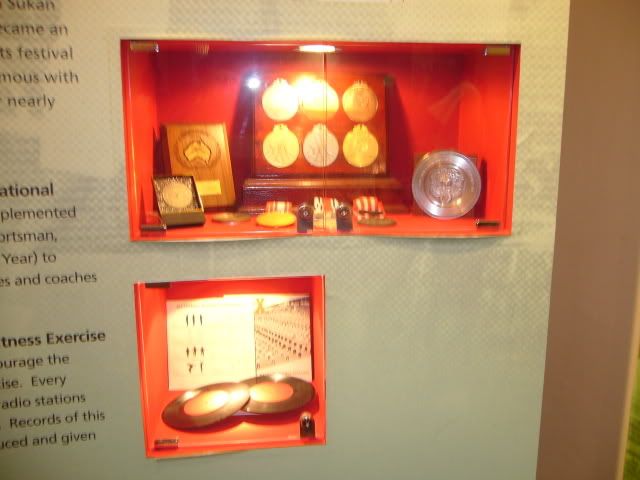 This is the 1st Olympic medal won by
Mr. Tan Howe Liang
whom participated in 1960 Rome Olympic Games representing Weight Lifing.
After keeping cool in the Meseum, we are brought out to get some sunshine.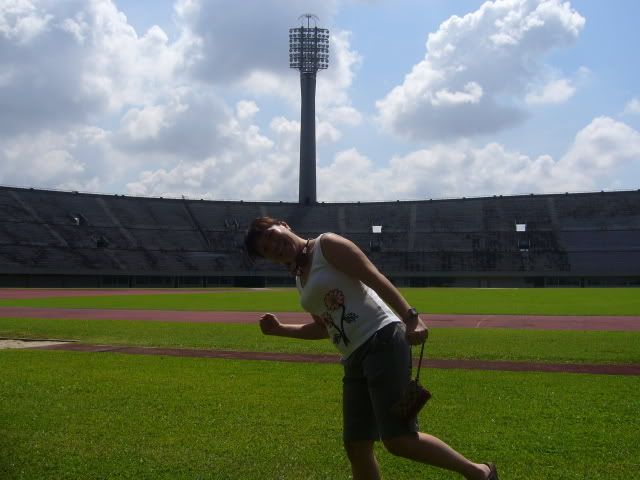 Walked up the stairs where the huge torch lies & I got to touch it the 1st time!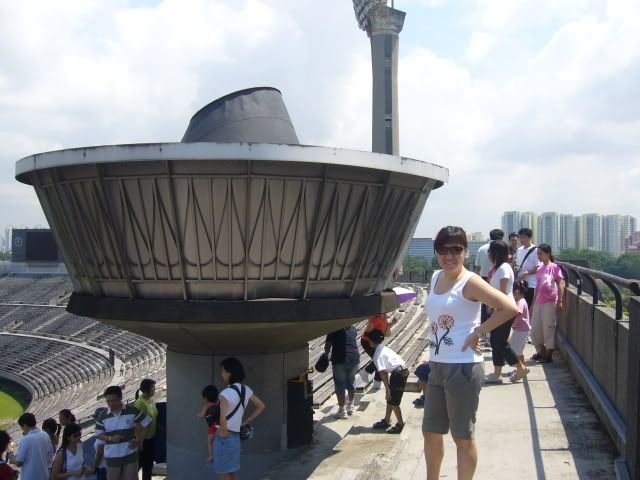 This torch lies directly opposite the grand strand.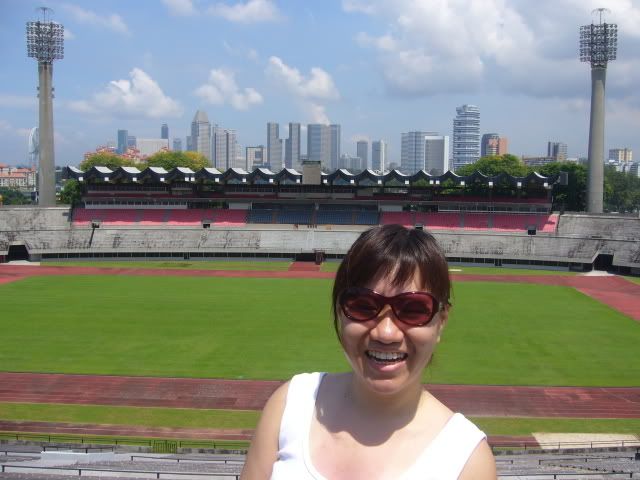 The entire tour lasted for almost 2.5 hours & before we the stadium, sat down at the spectators sit to enjoy the glimsp of the Stadium for one last time.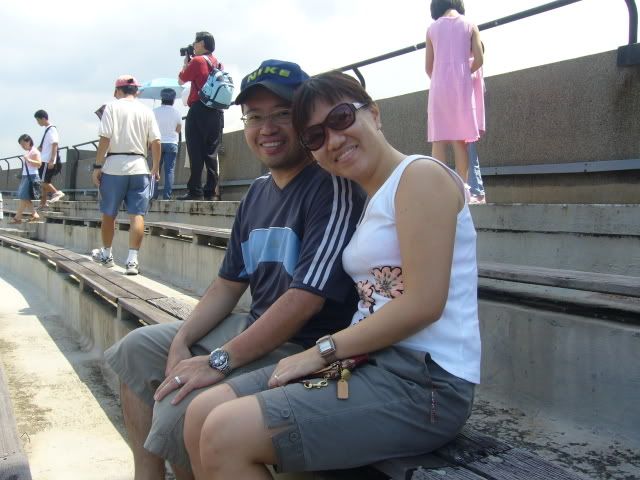 Some facts on Stadium.
Total Seating Capacity : 55,000
VIP Gallery : 416
9 Carparks
8 Lane Running Track
4 Table Tennis Tables
1 Big Turf! :)