Today 21st Feb 2008, its not only the last day of the Lunar New Year, its not only the day where the New Year TOTO Jackpot draw happens & someone may become a Millionaire...
Today the ENTIRE Singapore Celebrates being the First Hosting Nation to hold the Inaugural
Youth Olympics
in 2010!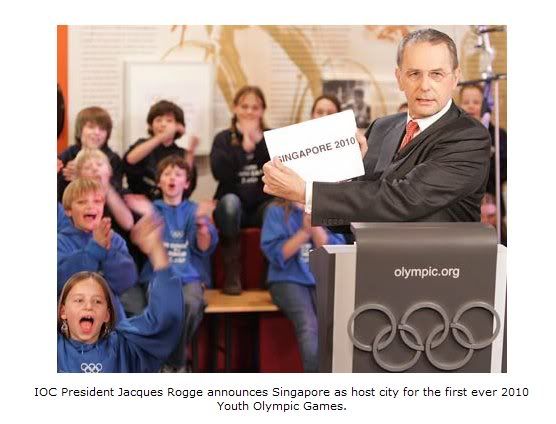 SINGAPORE - Singapore erupted in celebration on Thursday after winning the right to host the inaugural Youth Olympics in 2010, with Prime Minister Lee Hsien Loong calling it a new era for Southeast Asian sport.

The International Olympic Committee (IOC) awarded the Games to the city-state ahead of Moscow by a vote of 53 to 44. It will be the first time that Singapore is hosting a multi-disciplinary sporting event of such a magnitude.

"Friends and fellow Singaporeans, congratulations to all of us," said Mr Lee in front of thousands of cheering supporters wearing red and white, the colours of the national flag.

"It is a great honour and privilege for all of us. It will be the first time that the Olympic flame will be in Southeast Asia and in Singapore.

"We will be the focus of a new era for sporting development for Southeast Asia and Singapore. We worked very hard, it was a national effort, but more than that it was a people effort."

Vivian Balakrishnan, Minister for Community Development, Youth, and Sports, called it "an historic day".

"By choosing Singapore, the IOC has declared that it is possible for small young cities like Singapore to host the Olympic movement," he said.

"On Friday, the hard work begins. I know we will succeed because every Singaporean will go all out to welcome the youth of the world to Singapore in 2010."

Moscow had Russian President Vladimir Putin in its corner, far deeper pockets than Singapore in terms of budget, and long-standing ties with the IOC on its side. But Singapore played its size-is-not-everything card to perfection.

A huge buzz has been generated among Singaporeans, with people from all backgrounds in the nation of 4.5 million people supporting the bid.

Online, they have shown their backing by blogging, chatting on forums, posting videos and setting up websites. And more than 550 companies publicly backed the bid.

The brainchild of IOC chief Jacques Rogge, the Youth Olympics will feature traditional sports such as athletics and swimming, and also some innovative events such as beach-wrestling and BMX bike riding.

Rogge made the announcement himself from the IOC headquarters in Lausanne, ending a process that originally started with nine cities in contention. This was whittled down to Athens, Bangkok, Turin, Singapore and Moscow before it became a two-horse race.

"This is a key moment for the Olympic movement," said Rogge. "Singapore has put together a very exciting project. Hosting the Youth Olympic Games for the first time is a great responsibility, and I have every confidence in the team in Singapore.

"I have no doubt that their professionalism and enthusiasm will be instrumental in the staging of a successful Youth Olympic Games in 2010."

The Games will see 3,500 athletes, aged between 14 and 18, competing in 26 sports.

Singapore is proposing 24 venues, with four being built as temporary facilities, including one large cluster of 13 facilities in its Marina-Kallang area.

The Youth Olympic Village will be located at a new multi-million-dollar student residential complex at the National University of Singapore, slated for completion months before the event.

Singapore is budgeting US$75.5 million to run the Olympics, covering everything from educational and cultural programmes to development of services and transport. The Games will run from August 14-16.


Sources from Channel News Asia