Yesterday during dinner we had this discussion on if
Nick Heidfeld
is to win this coming weekend Hockenheim F1 Race, he will become a National Hero just like Lewis Hamilton winning in Silverstone fortnight ago.
See Nick Heidfeld being a German & driving in a German Nationality Team -
BMW Sauber
will have
Germany's National anthem
to be played on the podium if he comes in 1st.
We shall see what comes...
Back to the topic on National Anthem, we then start discussing the teams & the National to be played if their drivers got into 1st on Podium..
Well the obvious are the
Ferrari
where we always hear the Italians singing their lungs out when either one of their drivers are on the Podium, then we have
God Save the Queen of England
. We heard something different during the Canadian Grand Prix where Robert Kubica won. A
Poland
& German national anthem was played.
Then here comes my questions to him.
Jo: Constructor's
Toyota
&
Honda
which country national anthem to be played?
Eric:
Japan
!
Jo: But they are base in UK wor..
Eric: Eh.. Still Japan!
Jo:
Force India
(hahaha)...
Eric: Where else
India
la (with a slight shake of head)
Jo:
Red Bull
?
Eric: Hmmm.. UK??? I think so.. they are base there
Jo: Yes.. (Skeptical)
Jo:
Toro Rosso
Eric: Good question! Maybe UK since its sister to Red Bull, but not sure.
Jo: .... (In my mind I think, I will find out)
Couple of searches from the
Wikipedia
, here we are.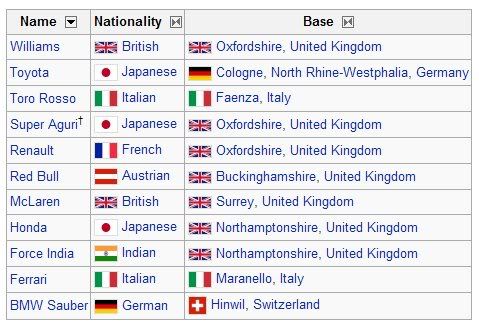 Red Bull is
Austrian
.
Toro Rosso is
Italian
.
So Eric &
Ching Wei
are wrong.... *Giggles*