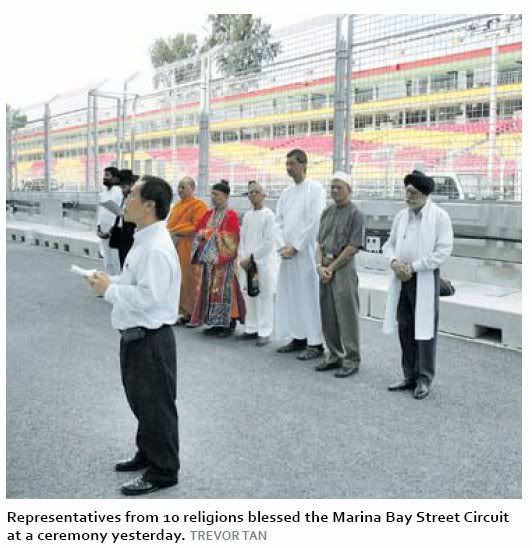 Don't say Singaporeans are superstitious but this act can be a real blessing. Singapore being a multi-racial society, having to together all religious groups leaders to blessed the track hopefully shall have a nice & safe race end of this month
Prayers for a safe race weekend
THREE weeks from now, the world's fastest cars will be flying down the 5km Marina Bay street circuit here hitting top speeds of 300kmh.

It will be the first time Formula 1 pilots will be racing at night under the glare of lights.

Safety concerns have never been far away in the build up to the 2008 Formula 1 SingTel Singapore Grand Prix on Sept 28.

Toyota's Jarno Trulli said last week in Belgium he was a little uneasy after the spate of wet weather here.

Maybe after organisers Singapore GP's blessing ceremony of the track yesterday, everyone can rest easy.

Representatives from 10 religious groups in Singapore conducted prayers for a successful and safe race here from Sept 26-28.

The idea was the brainchild of Singapore GP deputy chairman Colin Syn, who said: "We are a multi-cultural society and this is something that we are accustomed to here. I believe getting all the religions involved to pray for a safe weekend is a good thing."

Earlier, Singapore GP chairman Teo Hock Seng gave Today a tour of the track and pointed out some of the safety features of the street circuit. He also revealed why the track was designed as an anti-clockwise circuit.

The main consideration, Teo said, was safety.

"If you look at the last turn before the start-finish straight, it is quite a tight corner," said Teo. "Had we designed it as the first turn, the start of the race would have been hazardous because the turn there does not allow us to design a safe run-off area for drivers.

"It is a short distance to the beach and there is simply no space to build one."

Organizers expect at least 100,000 fans to turn up for the race and Teo gave an assurance that they all can look forward to an exciting outing, as plans have been put in place to ensure everyone's needs are met.

"There are a lot of F&B outlets around the track and they are pretty affordable. I think the fans are going to enjoy themselves, we want everyone to enjoy themselves," said Teo.
Sources from www.todayonline.com