I got this mail on 30th March.
Dear Sir/Madam,
Firstly, thank you very much for helping to make the first Formula One night race such a resounding success. With your continued support in 2009, we hope the FORMULA 1 SINGTEL SINGAPORE GRAND PRIX will reach even greater heights.
As you may have read in the press, we are testing the new upgraded ticketing system before we start public sales on April 9. As part of the evaluation, you have been randomly selected from the SGP database to have the option to purchase tickets before the public release. All the transactions during this period will allow us to "load" test the system.
So if you were intending to buy tickets for this year's race, we have set aside early bird inventory exclusively for you in return for you booking during the testing period. The prices will be the same as those offered during the public sales starting April 9.
That very Night.....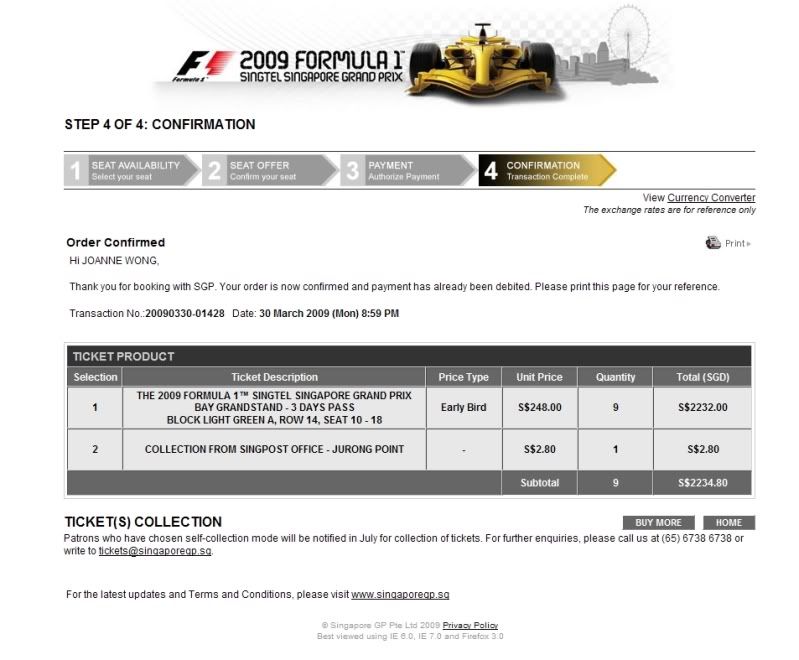 LOL! Ain't I Fast!!! I am their testers! They are at SAT stage when they launched this. Last year during the initial period of ticket sales, there were a huge bottleneck at the Internet Booking system, ticket sales Hotline & even the physical ticketing booth.
This year, they engage
SISTIC
, one of Singapore's most reputable ticketing organization to handle the Sales! Everything went smooth sale & I have no problem getting my desired seats!